Prof. Yunhao Liu
Dean of School of Software at Tsinghua University, China.
Title: Internet of Everything for New Industrial Revolution
Abstract:
In this talk, I will introduce several of our ongoing Internet of Things (IoT) projects such as the GreenOrbs and CitySee. In these projects, we have deployed over 1000 sensor nodes, with totally more than 10,000 sensors, for monitoring water, CO2, NO2, automobiles, and human activities. I will also present TagSys, a passive RFID based luggage tracking system, which has resulted the ACM MobiCom 2014 Best Paper Award and has been deployed in Beijing International Airport with more 110,000 tags. I will focus on a few key ideas such as passive diagnosis, sensorless sensing, and communication as a sensing, the opportunities and challenges in extremely large scale IoT systems, and the impact of IoT to the new industrial revolution.
Bio:
Yunhao Liu, ACM Fellow and IEEE Fellow, Chang Jiang Chair Professor, and Dean of School of Software at Tsinghua University. Yunhao received his BS degree in Automation Department from Tsinghua University in 1995, and an MS and a Ph.D. degree in Computer Science and Engineering at Michigan State University in 2003 and 2004, respectively.
Yunhao is an ACM Distinguished Speaker, and currently the Chair of ACM China Council. He is the recipient of the IOT Young Achievement Award from the China Computer Federation (2016), the ACM Presidential Award (2013), and the NSF China Distinguished Young Scholar Award (2011). He was the Associate Editors-in-Chief for IEEE Transactions on Parallel and Distributed Systems from 2011 through 2014, and he is now Associate Editor for IEEE/ACM Transactions on Networking and ACM Transactions on Sensor Network. Yunhao has authored/co-authored three books and more than 180 research papers. He received 4 Best Paper Awards in international leading conferences and has over 15,000 citations (h-index of 56).
Prof. Jon Whittle
Dean of the Faculty of IT, Monash University
Title: Human Values in Software – Where are they?
Abstract:
Every organisation, corporate or non profit, has values (e.g., integrity, diversity, social inclusion, compassion). But how can we ensure that these values are embedded in the software that organisations design and use? With the increased automation of decision making that AI and machine learning brings to organisations, how can we ensure that machines make decisions that reflect an organisation's human values?
An example: When Hurricane Irma hit Florida, thousands of people were told to evacuate. Airline pricing algorithms, which are based on strict notions of supply and demand, automatically adjusted airline ticket prices: so a ticket from Miami to New York suddenly went up from $300 to $3000. Where was the human value of compassion in a time of national crisis?
An example: a recent study by Galhotra et al., which looked into ways that software discriminates against certain populations, found that "state-of-the-art techniques for removing discrimination from algorithms fail in many situations, at times discriminating against as much as 98% of an input subdomain".
An example: many large companies are now looking to realize commercial profit from big data; at the same time, they have a set of corporate values they need to adhere to – how can software development teams monitor and track corporate values throughout a development process to ensure they are reflected in the software developed?
In this talk, I will reflect on some research projects I have led over the last eight years where values were or should have been integral to the development of software systems. The aim is to start a dialogue about how, why and where human values can be embedded in software development.
Bio:
Professor Jon Whittle is Dean of the Faculty of Information Technology at Monash University, Australia.
Jon has lived and worked in a number of countries around the world. Before coming to Monash, he was Head of the School of Computing and Communications at Lancaster University, a top ten UK university. Prior to this, he worked as an Associate Professor at George Mason University in Virginia, USA, as a Visiting Professor at IISc Bangalore and IIT Kanpur, and as a Senior Researcher and Technical Area Lead at NASA Ames Research Center in Mountain View, California.
Jon has a PhD in Artificial Intelligence from Edinburgh University. From 2007-2012, he was a Royal Society Wolfson Fellow, awarded to "outstanding scientists in the UK". Jon currently works at the intersection of software engineering and human-computer interaction and will Co-Chair the International Conference on Software Engineering in 2019. Jon is passionate about interdisciplinary research and about IT innovation that has a positive impact on society. In recent years, he has led a number of large multi-institution research projects valued at $14M looking at the role of novel digital technologies in supporting mental health awareness, sustainable living, and a fairer society.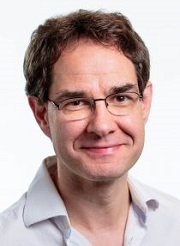 Prof. Lars Kulik
Data & Society theme leader at the School of Engineering at the University of Melbourne.
Title: The challenges of privacy in a ubiquitous world
Abstract:
Computational approaches to privacy for mobile and ubiquitous systems are more important than ever. Mobile and recently wearable devices become everyday tools to access various services in our daily lives. They generate large volumes of data every day, which will help us to obtain new insights into how humans behave, interact with each other, and their overall activity and wellbeing. Thus, data and information have become the new global 'currency'. The data from mobile phones and wearable devices enables us to learn not only a person's health status but also their lifestyle, preferences, location history and habits. Individuals consider such data often as sensitive are concerned about its use and implications on their lives.
In my talk, I will outline various challenges for balancing an individual's need for safe, private and personalized services while facilitating data sharing for the greater benefit to industry and society as a whole. The next generation of personal data comes from current and emerging networked devices such as mobile phones and wearables equipped with sensors capturing large amounts of personal data. As these devices are readily connected to the Internet, people constantly disclose large amounts of data. Providing robust and private-preserving algorithms will encourage users to volunteer more data that in turn will foster the development of new services. Some of the key challenges I will touch on in developing such algorithms are the following:
Is it possible to access location-based services without revealing our personal location data to a third party including the mobile phone operator?
Is it safe for a location provider to share point of interest query results with third parties instead of revealing the raw trajectory data of users?
Can we ensure the privacy of privacy-conscious users if we store their data together with users who provide their location data with a high resolution?
Can we identify a mobile user using only a mobile phone's diagnostic features?
How can we protect mobile users from visual privacy attacks?
Bio:
Lars Kulik is a Professor in the School of Computing and Information Systems at the University of Melbourne. He is the Data & Society theme leader at the Melbourne School of Engineering at the University of Melbourne. In 2002, he received his PhD from the Department of Informatics at the University of Hamburg, Germany. Prior to joining the University of Melbourne, he was an associate faculty researcher in the Department of Spatial Information Science and Engineering at the University of Maine. He was a visiting scholar at Cambridge University and the University of Zurich, and a visiting Eshbach scholar at Northwestern University.
His overall research goal is to integrate spatial information into pervasive computing systems that anticipate, adapt and respond to the needs of users, and provide services based on the user's location and context. His research focuses on computational approaches for protecting privacy, techniques for personal and spatio-temporal data mining, efficient algorithms for intelligent traffic systems, and robust algorithms that can cope with imperfection, especially in the context of mobile and wearable computing.